A Remarkable Idea

The one-year anniversary of the Hanna Walker Art Show is May 9th. So this would be a perfect time to blog about this remarkable event.
Today I will repeat a couple of earlier posts to remind our readers of how this unique, precious and exceptional event came to life. Tomorrow I will post about some of the results of this huge effort created to honor an exceptional Texan.
First You Plan
I first learned about the Hanna Walker Art Show in a Photoshop class I teach. Bill Cardwell was telling his two friends, Kevin Rush and Betty Haack, about an exhibit he was personally mounting in Luling, Texas.

I watched this fascinating project unfold, and as always was amazed at the strength, vitality and tenacity that one individual can bring to a project to make it a success.

Here you see Bill with a Hanna Walker painting called Peaches in a Basket on an easel outside of the Fellowship Hall of the Episcopal Church in Luling.
Bill worked for a year on plans for an art show to honor the memory of Hanna Walker (1876 – 1945), a native of Luling, who painted with oils prolifically in and around Luling, San Antonio, and Mexico, among other places, and interpreted subjects such as still lifes, landscapes, structures, figures, and other diverse examples of flora and fauna. Her works were exhibited frequently in the 1920s and 1930s but have only rarely, if ever, been shown to the public since her death.
While Bill is a long time resident of Dallas and has practiced law here for years, he has a special place in his heart for Luling, Texas where the exhibit will be held. He says, "It seemed particularly appropriate to hold this show in the Fellowship Hall. In 1950 numerous paintings by Hanna Walker were sold and the proceeds from the sale of were used to construct the Parish Hall/Fellowship Hall of the Episcopal Church in Luling. One of her paintings is on permanent display there."
It was quite a journey for him. Here are just some of the things involved in this one day show: Sketch/Essay – complete final editing/coordinate with Dr. Michaele Haynes, Witte Museum, San Antonio; get exact names of paintings to be used on signage, press release, security, easels, memory book, video/audio presentation, memorabilia table, and advertising:
Dr. Michaele Haynes, the curator at Witte Museum in San Antonio, has agreed to pen a few hundred words about Miss Hanna and her career for a printed program for the exhibit. The art show was mentioned in the newsletter for the Center for the Advancement and Study of Early Texas Art (CASETA)
http://www.caseta.org/
. With the help of Todd Carlson, Austin photographer/graphic artist, he will have a printed program for the exhibit which will include photographs of many of Hanna Walker's paintings.
A total of eighty of the paintings by Hanna Walker from the collections of about 17 people were displayed at this exhibit. No paintings at this art show were offered for sale. This event was aimed exclusively at honoring the memory of this long-deceased, early Texas artist.
Then It Happens

On May 9th, 2009 a cooperative endeavor being lead by Bill Cardwell, one of my most remarkable students, took place in Luling, Texas!


For one day, 70 oil paintings were exhibited at the Church of the Annunciation Parish Hall from 20 collectors located in these Texas towns: Luling, Austin, Lakeway, San Antonio, Corpus Christi, Houston, Shelby, Dallas, Lewisville, and Diana. Eleven of these collectors are related to Hanna Walker.
Our friend, Kevin Rush and his wife Linda went to Luling to help Bill. Kevin said, "Bill did a great job of succeeding under pressure with little sleep and with max decorum. Linda and I had a blast seeing Lockhart and Luling for the first time and sampling some great barbecue as well as home style cooking at a local cafe. All right out of a movie set only it was all real." Below you see Bill right in the thick of it all!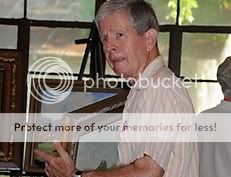 The three folks in front of the figure painting below are, from left to right, David M. Cochran (Bill's brother in law), Maryanne Cardwell Cochran (his sister), and Wanda Bassett Carter (a family friend from Luling who is a collector who displayed her own Hanna Walker paintings at the art show).
David was nine years old when Miss Hanna painted this picture of him in 1934. His mother, Cleo Cochran, was a contemporary of Miss Hanna, and we think that Miss Hanna did this painting as a favor to her friend. So, there is David at age 85 in this photograph in front of the painting of him at age nine!
Below is Marie Muenster Galloway who is 97 years old. She came to the art show and brought several of Miss Hanna's paintings with her. Bill says, "Marie is undoubtedly one of the most amazing people I have ever met."
Dr. Michaele Haynes, Curator of Witte Museum, attended the art show in Luling.
Dr. Haynes said that this painting, called
Camp Site
, is the most accomplished of all that were on display at the art show."
Called Natures Gift, this painting was entered in several competitions in San Antonio in the late 1920s.

Some mind-boggling facts about how this was done:
Displayed in room 50 feet by 24 feet on walls, doors, floor easels, table top easels, and table tops.
A total of about 50 easels were borrowed from five sources.
Sixteen paintings delivered to Parish Hall by Luling collectors and hung on walls the evening before show. About 55 paintings transported to Parish Hall by out of town collectors the morning of show and processed and set up the morning of show.
An identifying sign placed by the display location of each painting.
Printed program contains color photo of each of about 55 of the paintings on display and text information about Hanna Walker, her career, and her substantial contributions to this Church and to the construction in about 1951 of this Parish Hall.
Kevin Rush and Todd Carlson took many photos of paintings on display and of collectors and others attending show. Will Cardwell took video pictures.
Guest book was signed by 201 persons. Actual attendance was probably about 225.
Students in high school and junior high school art classes who attended received extra credit (high school classes) and were exempt from final exam (junior high school classes).
Isn't it amazing what we seniors can do once we set our mind to it? Tomorrow we will talk about some of the results of this heart-warming event.
Congratulations to Bill Cardwell for a job well done in putting together the Hanna Walker Art Show!