Traveling is a passion for many people. And if you have a camera and Photoshop skills, you can create some wonderful images.
The unique text effect you see above, and the charming collage in the image below were created in Photoshop Elements by one of my talented students, Jack Murphy. He visits Sayulita, Nayarit, Mexico often and fortunately for us takes lots of pictures!

Jack grew up in the 50's in Southern California during a time when Californians were lucky…they had the weather, the immense growth, and a melting pot of people that made everything interesting.
Jack met Jeanette, his wife, at Macy's department store in the 60's and they were fortunate to be able to travel all over the United States and Europe due to his job and just curiosity.
Back in 1999 they found Sayulita, Nayarit, Mexico and because of its beauty, weather, natural art and simpatico people they decided to purchase something they never planned on, a second home.
I asked Jack to describe this fascinating place, and he said, "Sayulita is a beautiful quaint fishing and surfing village 35 miles north of the Puerto Vallarta airport. The waves are perfect for the beginning to intermediate surfer, and during the October through May period the deepsea fishing is boiling with tuna, mahi mahi, toro and mackeral. The reason for the great fishing is Banderas Bay is one of the main breeding areas for the sperm whales. Whales need lots of feed and the tremendous amounts of sardines attract all the other fish and sea birds. After the fishing or surfing it is time for margaritas and a well earned great meal. Sayulita has it all, it is paradise.
All of our family and friends who have visited Sayulita love it. Sayulita is truly magical!"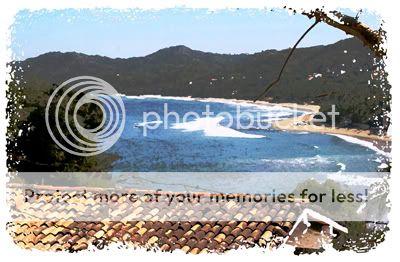 Thanks to Jack for sharing this lovely spot with us in such a unique way