On Tuesdays we provide our Faculty an opportunity to feature the talented work of some of our students and friends. You may see a display of creative Photoshop work, their beautiful photographs or an interesting story about an individual's meaningful contribution to his or her community, country or the world.If you have memories, old or new, you would like to share, send them to me at
mxw8110@yahoo.com
.
Surin' He is a Lovely Irishman!
Jack Murphy has a busy life, filled with family, friends, an Irish pub and travel. He often records his life experiences in imagery and when I asked him if he would share some of his pictures he kindly agreed.

Starting with family, here is a picture of his dad that was originally sepia color. Jack painted it in Photoshop Elements:


Here we find his wife, Jeanette and a friend jogging at White Rock Lake.
Who needs a cube on their desk when you can make one in Photoshop of your Grandchildren: Lizzie, Katie and Paddy.


After family comes business. The Murphy's own the popular and well known Irish pub Trinity Hall in Mockingbird Station in Dallas, Texas...


...where the lads and lasses gather to have a grand old time!


And then of course the family's favorite vacation spot where they have a second home away from home. A laid back, beautiful, dreamy place called:

Great for breakfasting at Rollies:
Surfing:


Celebrating family:


And painting (in Photoshop of course!):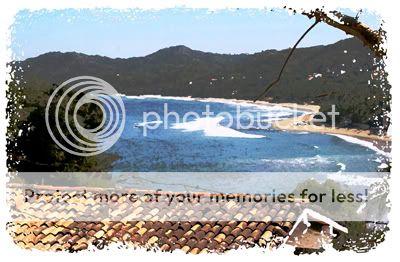 I am Irish myself, so this post gives me an excuse to quote one of my favorite poems!

May the road rise to meet you,
May the wind be always at your back,
May the sun shine warm upon your face,
The rains fall soft upon your fields and,
Until we meet again,
May God hold you in the palm of His hand.
And a special thank you to Jack Murphy for sharing with us.