On Tuesdays we provide our Faculty an opportunity to feature the talented work of some of our students and friends. You may see a display of creative PhotoShop work, their beautiful photographs or an interesting story about an individual's meaningful contribution to his or her community, country or the world.If you have memories, old or new, you would like to share, send them to me at mxw8110@yahoo.com.

The Hanna Walker Art Show
On May 4th, 2009 I posted a story about a cooperative endeavor being lead by Bill Cardwell, one of my most remarkable students. That event took place May 9th when the Hanna Walker Art Show arrived in Luling, Texas!
For one day, 70 oil paintings were exhibited at the Church of the Annunciation Parish Hall from 20 collectors located in these Texas towns: Luling, Austin, Lakeway, San Antonio, Corpus Christi, Houston, Shelby, Dallas, Lewisville, and Diana. Eleven of these collectors are related to Hanna Walker.
Our friend, Kevin Rush and his wife Linda went to Luling to help Bill. Kevin said, "Bill did a great job of succeeding under pressure with little sleep and with max decorum. Linda and I had a blast seeing Lockhart and Luling for the first time and sampling some great barbecue as well as home style cooking at a local cafe. All right out of a movie set only it was all real." Below you see Bill right in the thick of it all!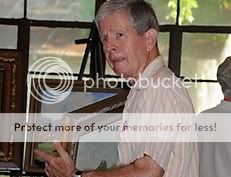 The three folks in front of the figure painting below are, from left to right, David M. Cochran (Bill's brother in law), Maryanne Cardwell Cochran (his sister), and Wanda Bassett Carter (a family friend from Luling who is a collector who displayed her own Hanna Walker paintings at the art show).
David was nine years old when Miss Hanna painted this picture of him in 1934. His mother, Cleo Cochran, was a contemporary of Miss Hanna, and we think that Miss Hanna did this painting as a favor to her friend. So, there is David at age 85 in this photograph in front of the painting of him at age nine!
Below is Marie Muenster Galloway who is 97 years old. She came to the art show and brought several of Miss Hanna's paintings with her. Bill says, "Marie is undoubtedly one of the most amazing people I have ever met."
Dr. Michaele Haynes, Curator of Witte Museum, attended the art show in Luling.
Dr. Haynes said that this painting, called
Camp Site
, is the most accomplished of all that were on display at the art show."
Called Natures Gift, this painting was entered in several competitions in San Antonio in the late 1920s.

Some mind-boggling facts about how this was done:
Displayed in room 50 feet by 24 feet on walls, doors, floor easels, table top easels, and table tops.
A total of about 50 easels were borrowed from five sources.
Sixteen paintings delivered to Parish Hall by Luling collectors and hung on walls the evening before show. About 55 paintings transported to Parish Hall by out of town collectors the morning of show and processed and set up the morning of show.
An identifying sign placed by the display location of each painting.
Printed program contains color photo of each of about 55 of the paintings on display and text information about Hanna Walker, her career, and her substantial contributions to this Church and to the construction in about 1951 of this Parish Hall.
Kevin Rush and Todd Carlson took many photos of paintings on display and of collectors and others attending show. Will Cardwell took video pictures.
Guest book was signed by 201 persons. Actual attendance was probably about 225.
Students in high school and junior high school art classes who attended received extra credit (high school classes) and were exempt from final exam (junior high school classes).
All of this resulting in:


Considerable attention being brought to the talent of Hanna Walker and to her memory.
Much surprise and enjoyment by those attending.
The displaying collectors who are related to her were given the chance to renew relations and compare collections—almost a Walker family reunion type dynamic.
The city of Luling benefitted by being the site of an event of this nature.
The outcome of the event made the planning aggravations and anxieties seem trivial.
Isn't it amazing what we seniors can do once we set our mind to it? Congratulations for a job well done at the Hanna Walker Art Show!
Thanks so much, Bill, for sharing this extraordinary story with us!
Mimi